Gluten Free Two Ingredient "Rolo" Caramel Chocolates - Coeliac Sanctuary
https://www.coeliacsanctuary.co.uk/recipe/gluten-free-two-ingredient-rolo-caramel-chocolates
Posted On: 21st June 2021
I used to love Rolos, but as I won't eat products with may contain gluten warnings, Rolos are something I haven't had in years! So after finding a mould I decided I was going to make my own gluten free version of them. With just two ingredients you can't get any simpler, if you wanted you could make the caramel from scratch but I was being lazy! They could quite possibly be made dairy free too just use dairy free chocolate and I am sure there must be a dairy free caramel sauce around somewhere!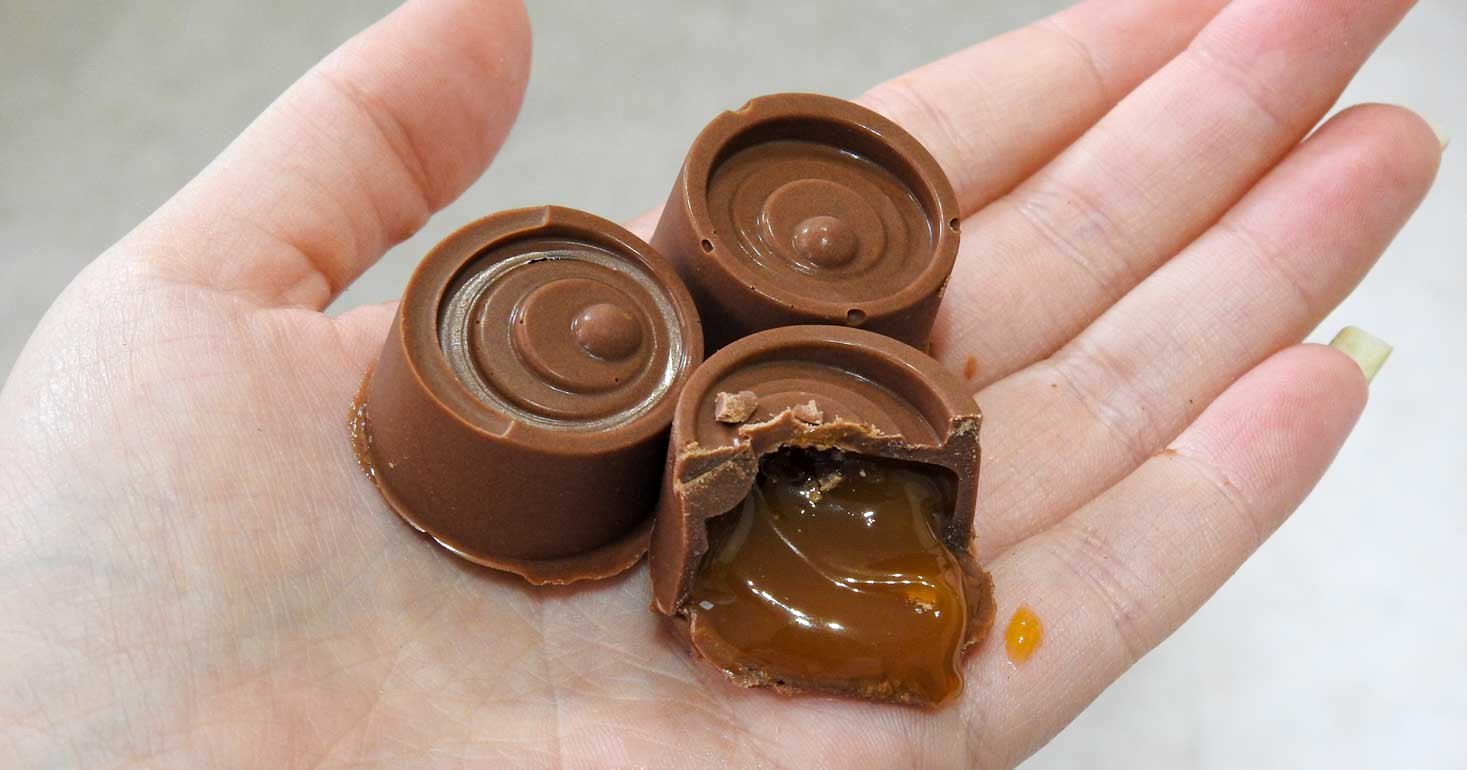 ---
Ingredients
150g milk chocolate chips
6tbsp Sticky Toffee sauce (we use m&s one as we know this one is gluten free)

Preparation Time: 5 Mins
Cooking Time: 15 Mins


This recipe contains
Dairy
---
Method
1. Melt the chocolate in a microwave in 30 sec blasts until smooth.

2. Pour the chocolate into a silicone mould, I used this mould but you could use any shape really! This mould makes chocolate probably about 50% bigger than a regular size rolo. Tap the mould on a work top to help remove air then tip upside down and let "unneeded" chocolate drip into a bowl, it will leave the bottom and sides coated with chocolate.

3. Place the mould in a freezer for about 5 mins to set the chocolate.

4. The bottom of the mould should be well covered in chocolate but the sides maybe a bit fragile, I used the handle of a spoon to give the sides of the chocolate another coat just to make sure it it strong enough. Place back in the freezer for another 4 or 5 mins.

5. Once again remove from the freezer, squeeze in toffee sauce until almost the top then drop about half a tsp of melted chocolae on top and spread over to create the base of the chocolate. One final time place in the freezer for another 5 mins or so to set the chocolate.

6. Again, remove from freezer this time push the chocolates out of the mould and they are ready!

If you are feeling particularly adventurous you could make the filling from scratch. We used M&S Sticky Toffee Sauce as we had some in and it is gluten free. However you could use our salted caramel recipe from our Salted Caramel and Chocolate Trifle recipe, this would make a thicker filling than shop bought caramel sauce.
---
This recipe makes 12 chocolates
Nutritional info per chocolate
| Calories | Carbs | Fibre | Fat | Sugar | Protein |
| --- | --- | --- | --- | --- | --- |
| 91 | 12g | 0g | 5g | 11g | 0g |
© 2021 Coeliac Sanctuary - https://www.coeliacsanctuary.co.uk