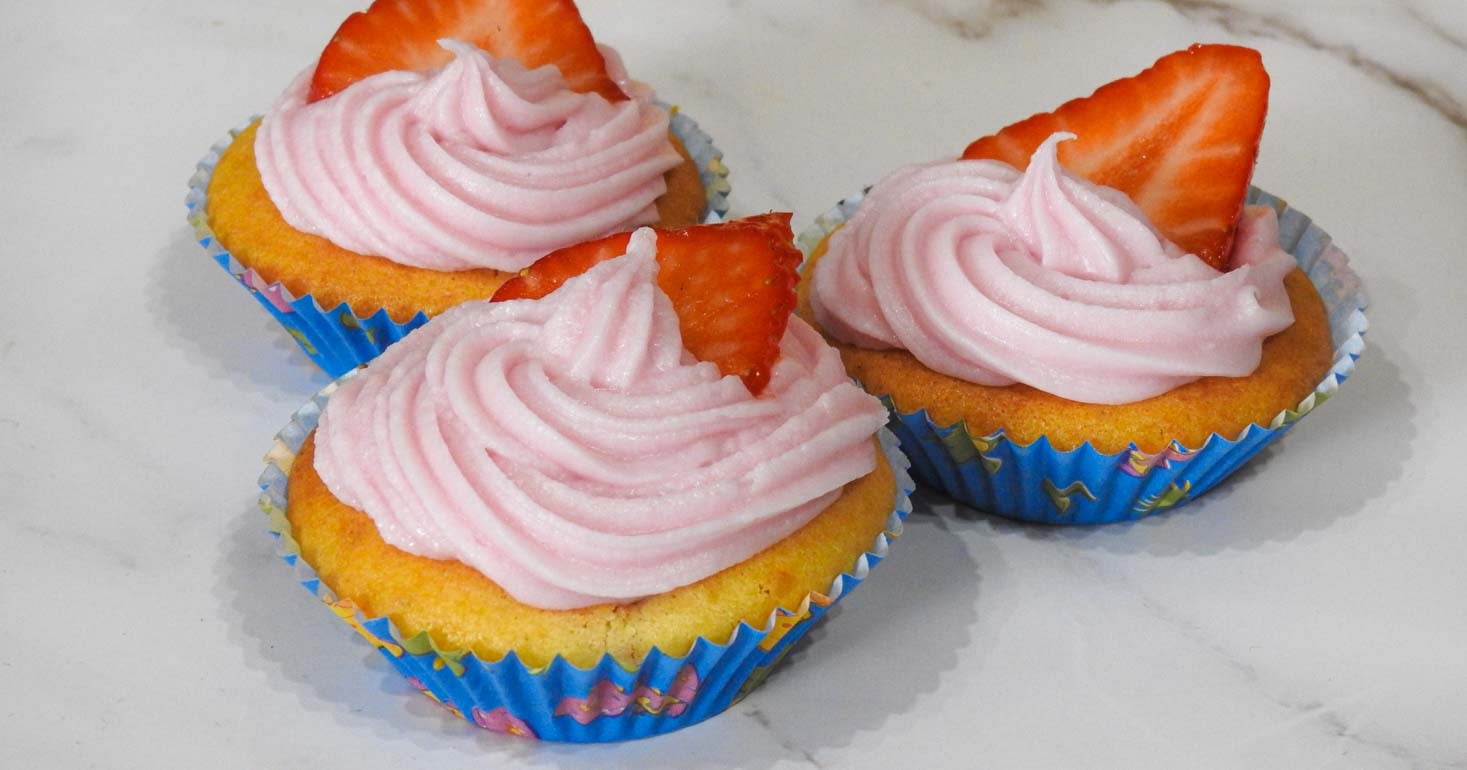 Gluten Free Strawberry and Cream Cakes - Coeliac Sanctuary
https://www.coeliacsanctuary.co.uk/recipe/gluten-free-strawberry-cakes
Posted On: 5th June 2021
Yes! It really is dairy free and includes cream! These gorgeous cupcakes are gluten free and dairy free, they have a lovely creamy taste to the sponge and topped with either premade buttercream from Sainsburys or by making your own fresh cream version. But using Elmlea Plant cream you can keep this recipe dairy free however it isn't vegan. Don't need dairy free, simply switch to normal double cream!

This recipe is...
Dairy Free, Low Calorie, Low Fat, Soya Free, Vegetarian
---
Ingredients
Cakes
60g caster sugar
100g Flora plant margarine (or other dairy free margarine)
2 medium eggs
125g gluten free self raising flour
40ml Elmlea Plant double cream
100g strawberries

Topping
1 tub Sainsburys Strawberry and Cream Frosting (which is what we used)
or alternatively
200g strawberries
200ml Elmlea Plant cream
100g icing sugar
Pink food colouring (optional)

Preparation Time: 15 Mins
Cooking Time: 20 Mins


This recipe is free from...
Celery, Crustaceans, Dairy, Fish, Gluten, Lupin, Molluscs, Mustard, Peanuts, Sesame, Soya, Sulphites, Tree Nuts
---
Method
1. In a large bowl cream together the sugar and margarine until well combined and creamy

2. Crack in an egg and beat into the creamed mix, add half the flour and beat again, repeat with the second egg and remaining flour until you have a thick batter mix.

3. Chop the strawberries into small chunks and add to the batter mix along with the cream beat in until the cream is combined and the strawberries are well distributed through the mix.

4. Preheat an oven to gas mark 5, line a cupcake tin with 12 cases and add around a tablespoon of mix to each case (or around 3/4 full)

5. Place in the oven and bake for 10-15 mins until the tops are golden brown. Remove from the oven and allow to cool on a cooling rack.

6. Once cold, if using premade buttercream place in a piping bag (we used Planit Products Silicone Piping Set and pipe onto the top of each cake...alternatively if you are making your own skip this step and follow step 7...

7. To make your own fresh strawberry and cream topping, whisk the cream until thick and stiff, blend the strawberries and fold into the cream then beat in the icing sugar. Place in a piping bag and pipe onto the cakes.

If dairy free not required you can use normal margarine and double cream
---
This recipe makes 12 Cupcakes
Nutritional info per Cupcake
| Calories | Carbs | Fibre | Fat | Sugar | Protein |
| --- | --- | --- | --- | --- | --- |
| 279 | 37g | 1g | 14g | 28g | 2g |
© 2021 Coeliac Sanctuary - https://www.coeliacsanctuary.co.uk