Gluten Free Egg Custard Tart - Coeliac Sanctuary
https://www.coeliacsanctuary.co.uk/recipe/gluten-free-egg-custard-tart
Posted On: 6th May 2022
Simple egg custard tart, delicious gluten free shortcrust pastry filled with a creamy egg custard with a pinch of nutmeg. The filling itself of a egg custard is simple, the key is getting that pastry right, you don't want a soggy bottom. You can of course use a ready made pastry if you are not confident making it yourself or follow my easy recipe. Once you master the pastry the rest is a doddle. Egg custard tart has to be on of those really easy desserts that you can just always go back for more it is so moorish!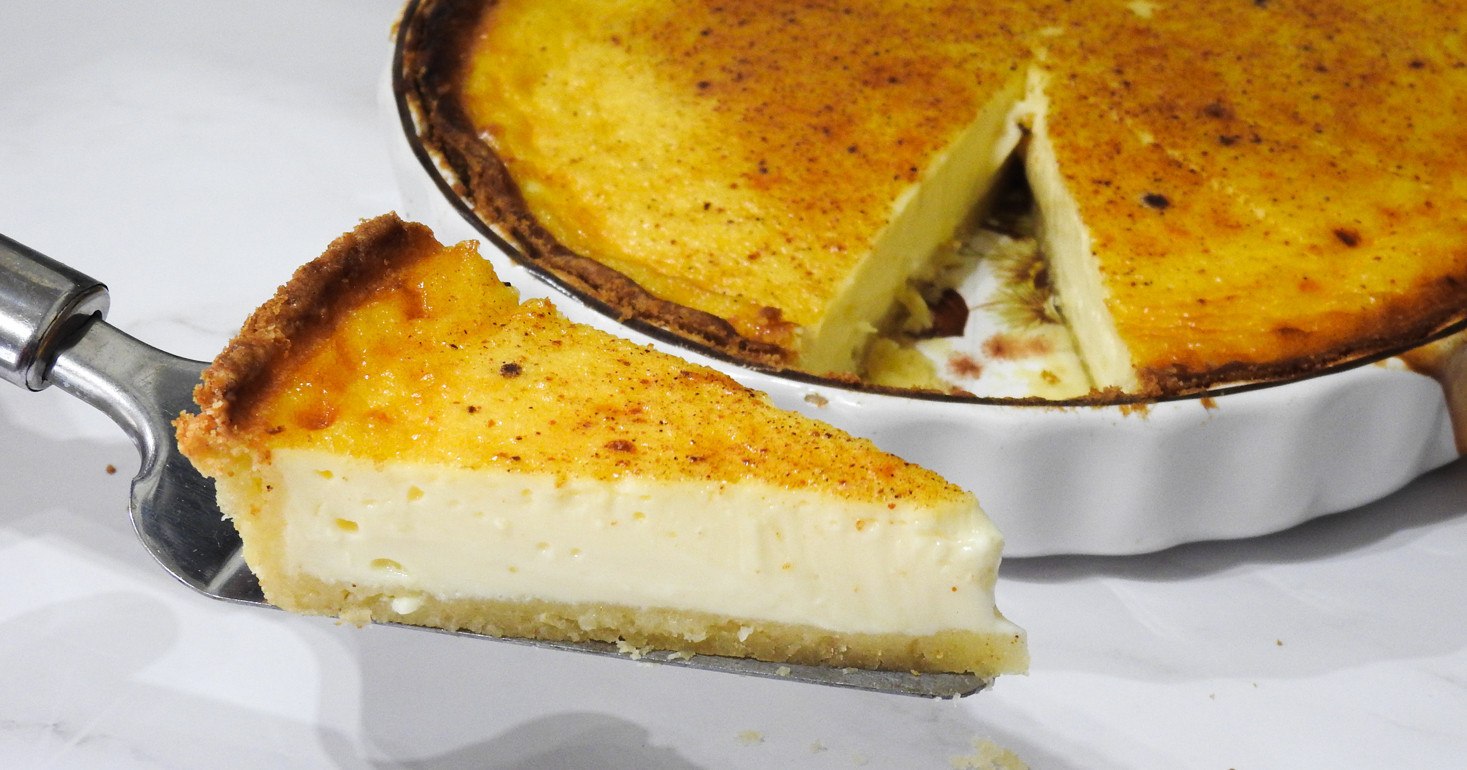 ---
Ingredients
Shortcrust Pastry
225g gluten free plain flour
1/4 tsp xanthan gum
Pinch salt
40g caster sugar
110g block butter
1 egg yolk
2tbsp water

Custard
4 eggs
250ml milk
250ml double cream
75g caster sugar
Pinch nutmeg

Preparation Time: 15 Mins
Cooking Time: 1 Hour


This recipe contains
Dairy, Egg
---
Method
NB: If you don't want to make your own pastry I recommend using The Pie Bakery gluten free pastry mix (it is kept refrigerated and only thing you have to add to it is water). At the moment it isn't on sale, but keep an eye on their website, it is the best ready made pastry I have ever had the pleasure of testing! I have made this egg custard with this mix and also with the homemade gluten free shortcrust pastry recipe given on here.

1. To make the pastry, place the flour, xanthan gum, sugar and salt in a bowl and gently mix.

2. Break in the butter then rub it in with your finger tips until you get a breadcrumb consistency.

3. Add in the egg yolk and a tbsp of the water and mix with a round ended knife to bring together, slowly add more water until it comes together into clumps, you should get a dough that you can handle easily, isn't to sticky and doesn't crumble apart.

4. Grease a flan dish, I used a 26cm one, roll out the pastry on a well floured surface or between two pieces of greaseproof paper, then lay over the flan dish, push into the corners and trim any excess. Use a fork of create a few pin prick holes in the base.

5. Cut a piece of greaseproof paper to bigger than the size of the dish and place inside, the pastry case, add baking beans or rice to the middle to weigh down.

6. Place the case in an oven preheated to gas mark 5 and blind bake for 15 mins until it starts to brown.

7. While that is in the oven, in a jug or bowl place all the custard ingredients except the nutmeg, use a bell whisk to mix together thoroughly, let sit while the pastry finishes blind baking.

8. Remove the pastry from the oven, remove the beans/rice and the greaseproof paper, press down any bits that may have bubbled up.

9. Pour the custard mix into the case then sprinkle the nutmeg over the top.

10. Place back in the oven for another 40-45 mins until the custard in cooked and the pastry edges are well browned.

11. Remove from the oven and allow to cool fully, it is best served chilled to let it cool then refrigerate for a few hours before serving.
---
This recipe makes 12 slices
Nutritional info per slice
| Calories | Carbs | Fibre | Fat | Sugar | Protein |
| --- | --- | --- | --- | --- | --- |
| 336 | 32g | 0g | 21g | 18g | 4g |
© 2022 Coeliac Sanctuary - https://www.coeliacsanctuary.co.uk