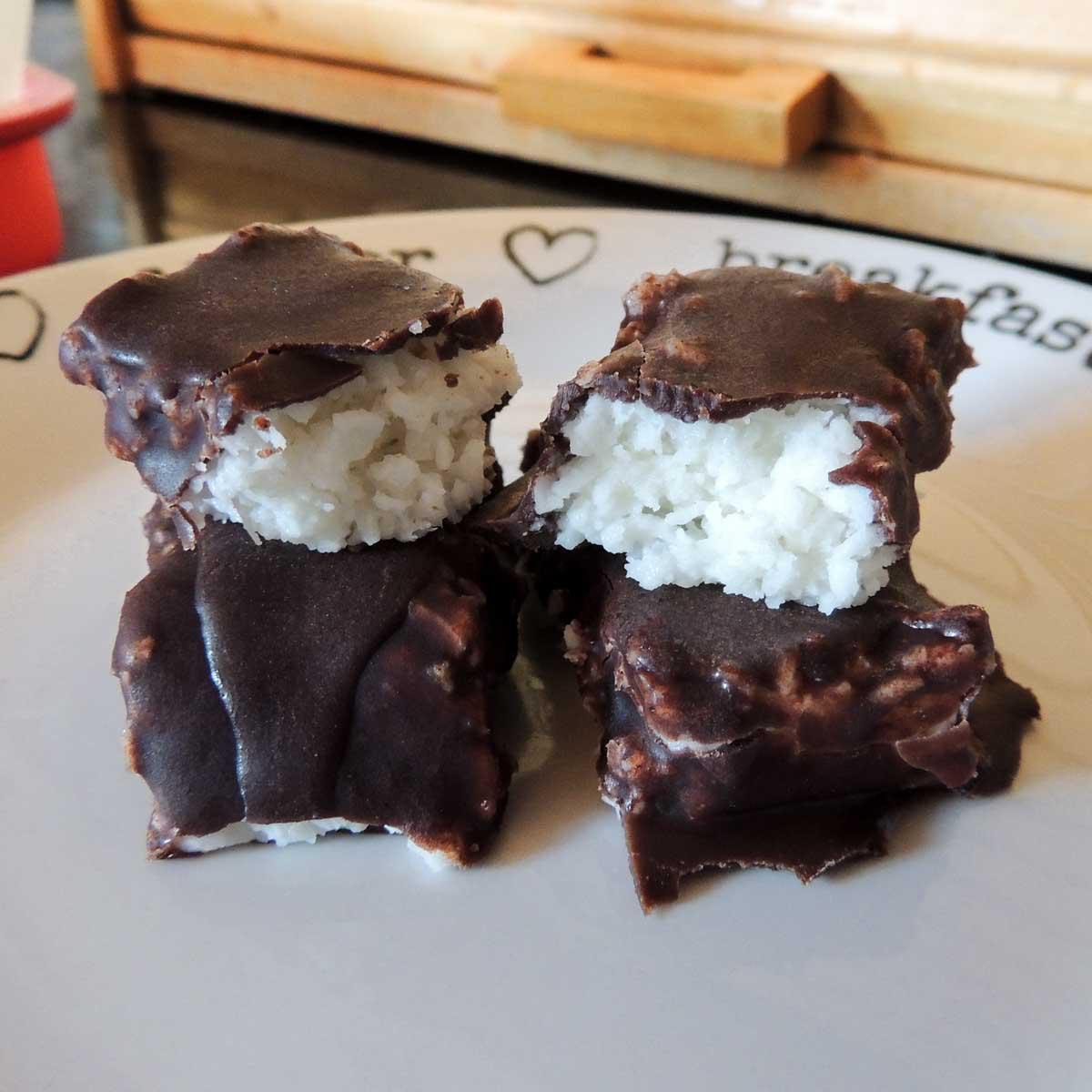 Gluten Free Coconut Bars - Coeliac Sanctuary
https://www.coeliacsanctuary.co.uk/recipe/gluten-free-coconut-bars
Posted On: 18th July 2017
Nestle Bounty's are gluten free but our take on them is also dairy free and don't use many ingredients, they are so tasty pretty low in calories too. This recipe also makes them vegan naturally but we have added a honey instead of maple syrup alternative if you don't want vegan. They are so good you'll want to eat them all!

This recipe is...
FODMAP Friendly, Low Calorie, Low Sugar, Slimming World Friendly, Vegan
---
Ingredients
Filling
150g desiccated coconut
200ml coconut milk
4tbsp coconut oil
4tbsp maple syrup (or honey if you don't want them vegan)

Coating
120g coconut oil
30g cocoa powder
2tbsp maple syrup (or honey if you don't want them vegan)

Preparation Time: 15 Mins
Cooking Time: 2 Hours 30 Mins


This recipe is free from...
Dairy, Egg, Soya
---
Method
1. Place all the filling ingredients in a pan, stir until the coconut oil has melted then bring to the boil and then remove from heat.

2. Line a square cake tin with cling film, press the coconut filling tightly into the tin then allow to cool slightly, once cooled, place in the freezer for around 2 hours until hardened.

3. To make the coating, melt the coconut oil, cocoa powder and honey together over a low heat then allow to cool until slightly thickened but not set (we found around 15 minutes in the fridge was ideal).

4. Remove the coconut filling from freezer and chop into 32 pieces, roll each in the chocolate and place on greaseproof paper to set (it should mostly set almost immediately with the coldness of the coconut), place in fridge to set fully.
---
This recipe makes 32 bars
Nutritional info per bar
| Calories | Carbs | Fibre | Fat | Sugar | Protein |
| --- | --- | --- | --- | --- | --- |
| 108 | 4g | 1g | 10g | 4g | 1g |
© 2021 Coeliac Sanctuary - https://www.coeliacsanctuary.co.uk