Gluten Free Coconut & Sesame Quinoa - Coeliac Sanctuary
https://www.coeliacsanctuary.co.uk/recipe/gluten-free-coconut-amp-sesame-quinoa
Posted On: 21st January 2015
Quinoa is a versatile, naturally gluten free grain, it can be used in so many different ways, it is fabulous as an alternative to couscous or makes a change from rice. This dish gives it a Caribbean twist for an amazing lunch time dish by combining the time couscous like grain with delectable coconut and crunchy sesame.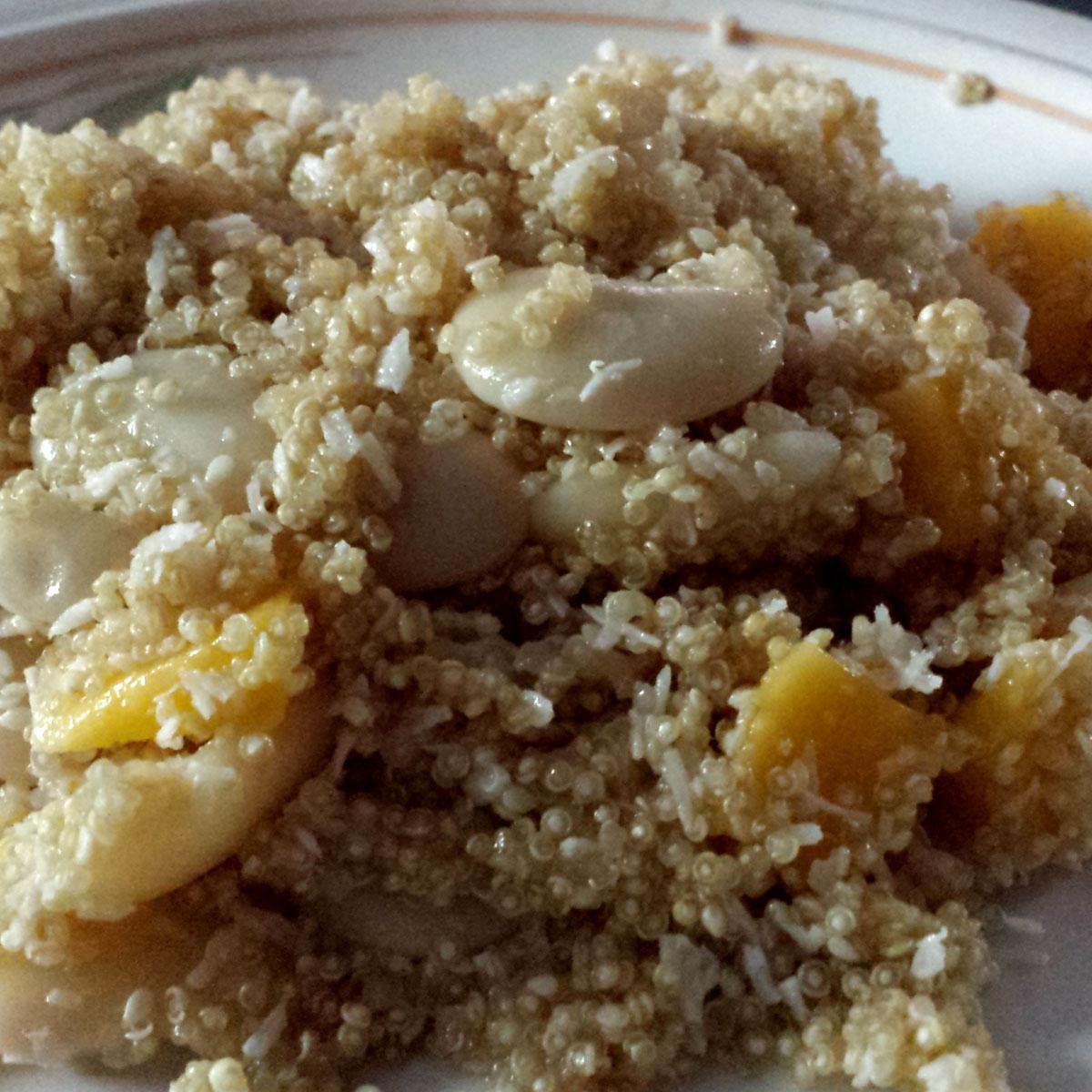 This recipe is...
High Fibre, High Protein, Low Fat, Slimming World Friendly, Vegetarian
---
Ingredients
240g quinoa
2 large mangoes
40g desiccated coconut
20g sesame seeds
Juice from a lime
400g butter beans
1 tbsp runny honey

Preparation Time: 20 Mins
Cooking Time: 10 Mins


This recipe contains
Sesame
---
Method
1. Place the quinoa in a small pan and boil around 300ml of water, pour the boiling water onto the quinoa (it should be enough to almost double the height of the quinoa).

2. Place the pan on the hob and allow quinoa to cook, the quinoa is done when it has all "popped" and all the water is absorbed, should take about 5-10 mins.

3. Set the quinoa aside to cool slightly.

4. Meanwhile cut the mangoes into chunks and place in a large bowl, add the coconut, sesame seeds, lime juice, butter beans and honey and mix well. Add in the cooked quinoa and mix again. Serve.
---
This recipe makes 4 servings
Nutritional info per serving
| Calories | Carbs | Fibre | Fat | Sugar | Protein |
| --- | --- | --- | --- | --- | --- |
| 454 | 89g | 12g | 5g | 20g | 18g |
© 2021 Coeliac Sanctuary - https://www.coeliacsanctuary.co.uk