Gluten Free Cocoa-Coconut Energy Balls - Coeliac Sanctuary
https://www.coeliacsanctuary.co.uk/recipe/gluten-free-cocoa-coconut-energy-balls
Posted On: 12th January 2019
I have a very sweet tooth so I am always looking for ways to curb the cravings for chocolate. These energy balls are naturally gluten free, accidentally vegan, packed with nutrients, are refined sugar free and need no cooking. They are a more healthy alternative to chocolate and sweets and really hit the spot.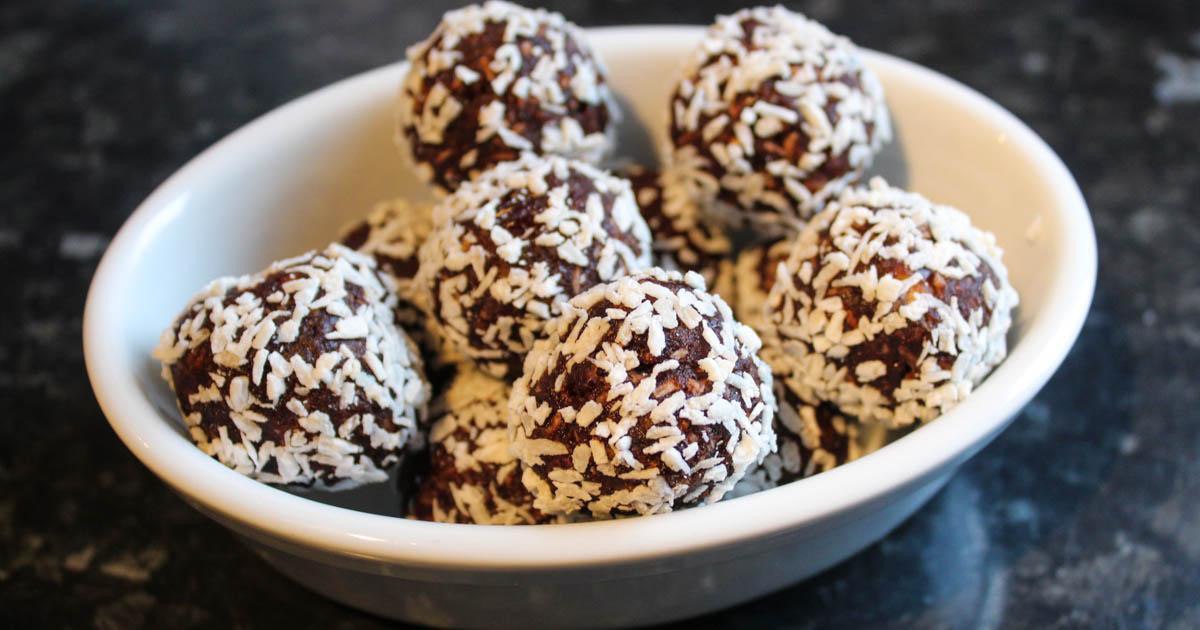 This recipe is...
Low Calorie, Slimming World Friendly, Vegan
---
Ingredients
180g dates (roughly 12 dates)
1.5tbsp cocoa powder
25g ground almonds
15g desiccated coconut (plus 10g for rolling)
2tbsp water

Preparation Time: 15 Mins
Cooking Time: 0 Mins


This recipe contains
Tree Nuts
---
Method
1. Pit the dates and roughly chop, throw into a food processor and blitz for a couple of minutes.

2. Add all the other ingredients to the food processor (except the 10g of desiccated coconut needed for rolling) and blitz again for another minute or two, it should combine well and end up with almost one ball of the mix.

3. Break the mix into 12 pieces and roll into balls. Roll the balls in the 10g of desiccated coconut reserved earlier.
---
This recipe makes 12
Nutritional info per ball
| Calories | Carbs | Fibre | Fat | Sugar | Protein |
| --- | --- | --- | --- | --- | --- |
| 70 | 12g | 2g | 3g | 10g | 1g |
© 2021 Coeliac Sanctuary - https://www.coeliacsanctuary.co.uk