Gluten Free Chocolate Cornflake Easter Nests - Coeliac Sanctuary
https://www.coeliacsanctuary.co.uk/recipe/gluten-free-chocolate-cornflake-easter-nests
Posted On: 16th April 2022
Gluten free cornflakes nests are super simple to make any time of the year, add some mini eggs and you have the perfect chocolatey Easter treat. They don't have to be done just for Easter though, leave the mini eggs off and you have just standard chocolate crispy cakes. Or you could fill with some other delicious gluten free chocolatey treats! You can make these nests dairy free by switching to a dairy free chocolate and butter too.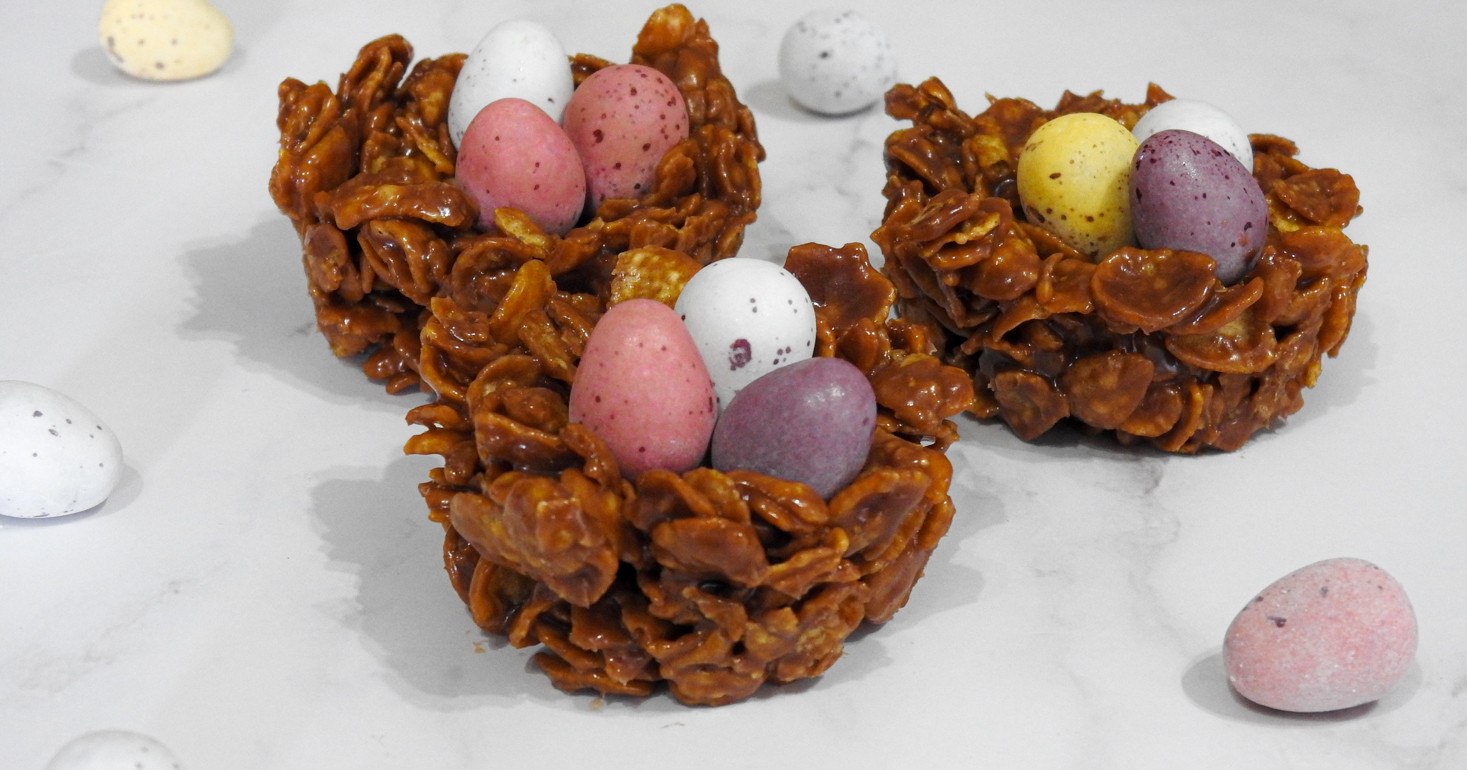 This recipe is...
Egg Free, Low Fat, Vegetarian
---
Ingredients
120g gluten free cornflakes
120g milk chocolate (I used one bag of Cadburys Giant Buttons)
3tbsp golden syrup
50g butter
36 mini eggs

Preparation Time: 10 Mins
Cooking Time: 1 Hour


This recipe contains
Dairy, Soya
---
Method
1. Place the cornflakes in a large bowl and set aside.

2. In a smaller bowl place the chocolate (broken up if it was a bar) along with the golden syrup and margarine.

3. Melt the chocolate either using a bain marie (the bowl over a pan of bowling water) or in a microwave in 30 second blasts. Heat until all the chocolate is melted and combined with the butter and golden syrup, almost like a smooth, glossy sauce.

4. Pour the chocolate into the cornflakes and mix until all the flakes are coated in the chocolate.

5. Line a cupcake tin with cupcake cakes, add a good heap (about 1.5-2tbsp of the cornflakes) to each case then top up with any remainder.

6. Create a small well in the middle of each cornflake cake and press 3 mini eggs into the indent.

7. Place the tray in the fridge for at least an hour to set then they are ready to eat!
---
This recipe makes 12 nests
Nutritional info per nest
| Calories | Carbs | Fibre | Fat | Sugar | Protein |
| --- | --- | --- | --- | --- | --- |
| 160 | 23g | 1g | 3g | 14g | 2g |
© 2022 Coeliac Sanctuary - https://www.coeliacsanctuary.co.uk