Gluten Free Chicken, Strawberry and Elderflower Salad - Coeliac Sanctuary
https://www.coeliacsanctuary.co.uk/recipe/gluten-free-chicken-strawberry-and-elderflower-salad
Posted On: 10th June 2022
Simply refreshing, naturally gluten free salad with a delicious dairy free creamy elderflower dressing. You can also make this with standard single cream if you don't want dairy free. This is a perfect salad for a summer day filled with beautiful summery fruits and a slight tropical twist. Salads are often naturally gluten free but remember to watch out for things like croutons and balsamic dressings.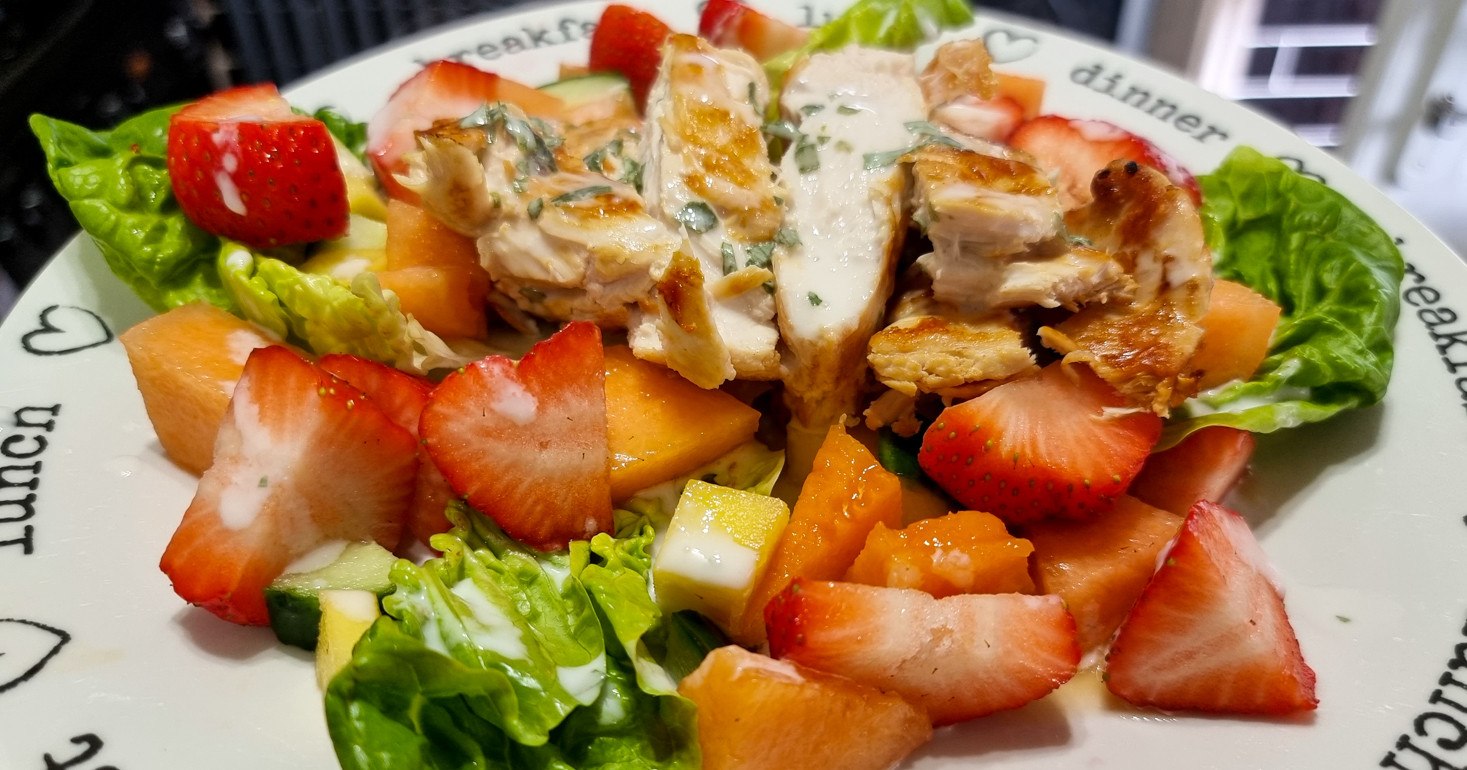 ---
Ingredients
2 chicken breast fillets
Little gem lettuce
1/4 cucumber
1/2 mango
10-12 strawberries
1/4 cantaloupe melon
25ml Alpro soya cream (or regular single cream)
1.5tsp Robinsons Pear and Elderflower Cordial
1/2tsp tarragon
1/2tbsp white wine vinegar

Preparation Time: 10 Mins
Cooking Time: 15 Mins


This recipe contains
Soya
---
Method
1. Place the chicken breast fillets in a food bag and lightly bash with a rolling pin to thin them out slightly.

2. Remove from the bag and place in a hot frying pan, cook for about 5-6 mins on each side, make sure they are thoroughly cooked through before removing.

3. While the chicken is cooking, place your little gem leaves on two plates, chop your cucumber, mango, strawberries and melon into chunks and scatter over the lettuce.

4. Make up the salad dressing by mixing the cream, cordial, tarragon and vinegar together in a small jug.

5. Remove the chicken from the frying pan and chop into slices, place on top of the salad then drizzle with the dressing.
---
This recipe makes 2 servings
Nutritional info per serving
| Calories | Carbs | Fibre | Fat | Sugar | Protein |
| --- | --- | --- | --- | --- | --- |
| 431 | 18g | 4g | 9g | 14g | 62g |
© 2022 Coeliac Sanctuary - https://www.coeliacsanctuary.co.uk