Gluten Free Black Forest Loaf Cake - Coeliac Sanctuary
https://www.coeliacsanctuary.co.uk/recipe/gluten-free-black-forest-loaf-cake
Posted On: 19th June 2022
Deliciously soft gluten free black forest loaf cake, filled with pieces of dark chocolate and juicy cherries, topped with rich chocolate ganache, whipped cream and more cherries - ok it's not quite a proper gluten free black forest gateaux...but I don't have the patience to make that! This loaf cake is certainly an amazing runner up. In this recipe I have used dark chocolate to give it that rich taste of a black forest but if you can't a fan you could use milk chocolate too. Why not have a go at making it dairy free to if you can't have dairy, switch to a dairy free chocolate and use a whippable soya based cream. Fresh cherries are quite costly so feel free to switch to frozen!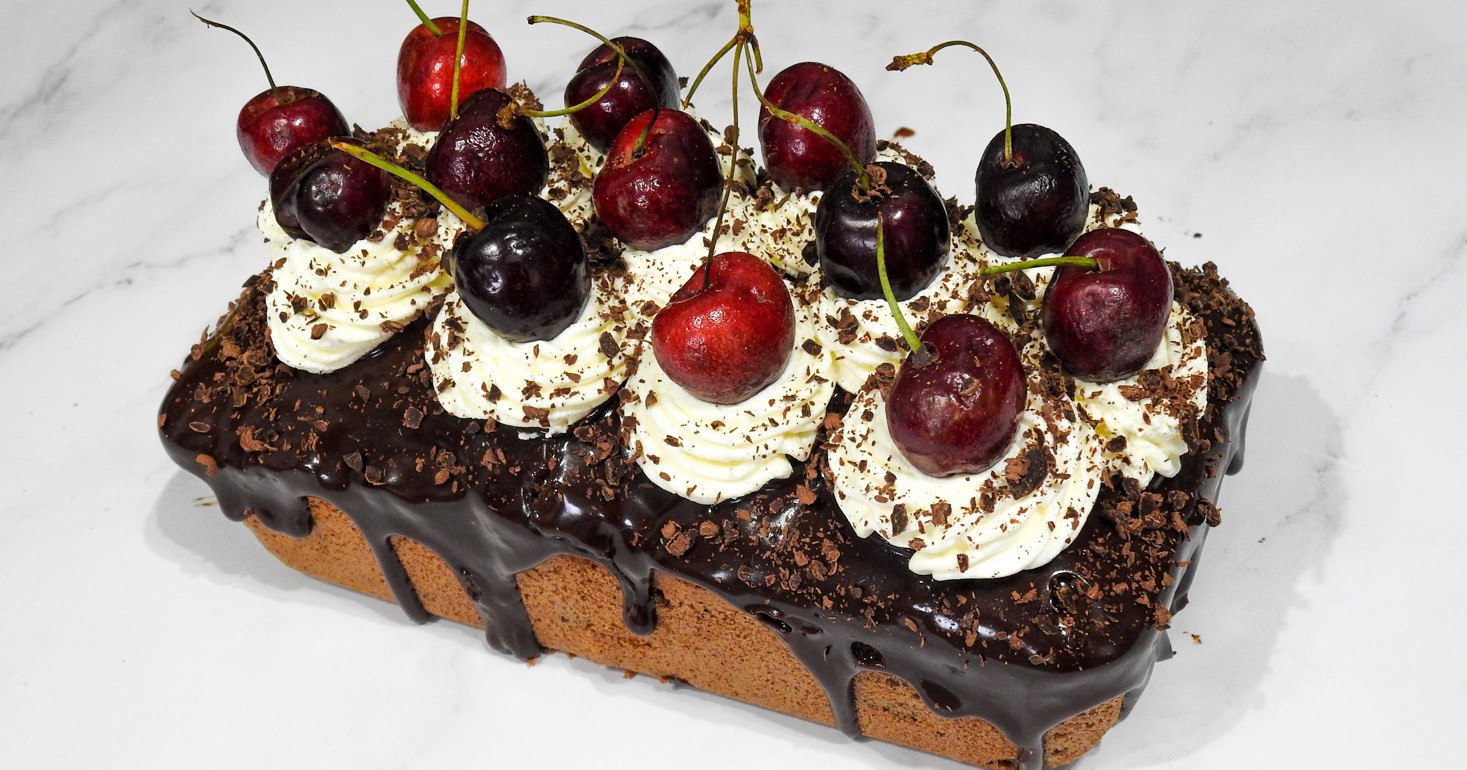 ---
Ingredients
Cake
115g margarine or butter
125g caster sugar
225g gluten free self raising flour
3tbsp cocoa powder
3 eggs
100g dark chocolate (I used 70% dark chocolate)
150g fresh cherries (weight with pits and stalks)

Ganache
50g dark chocolate (again I used 70%)
75ml double cream
2tsp caster sugar

Topping
150ml double cream
10g dark chocolate
Cherries

Preparation Time: 25 Mins
Cooking Time: 55 Mins


This recipe contains
Dairy, Egg
---
Method
1. Place the margarine/butter in a mixing bowl and add in the caster sugar, using a fork cream the two together until combined and fluffy.

2. In a bowl place your flour and cocoa powder sift about a third into the creamed mix and beat in with a wooden spoon.

3. Crack in one egg then beat in, add another third flour, beat once more, followed by second egg, beat again and repeat with the remaining flour and egg, beat until well combined, thick and creamy.

4. Roughly chop the dark chocolate, it doesn't need to be too fine, it's good to have some nice chunks in there! Throw into the cake batter mix.

5. Cut your cherries, removing pits and stalks and chop into quarters, also throw these into your cake batter bowl then stir through until evenly distributed through the mix.

6. Grease and line a 2lb loaf tin and pour in the cake batter. Place in an oven preheated to gas mark 3. Bake for around 50-55 mins until a skewer pressed into the middle comes out clean.

7. Once cooked, remove from the oven, turn out of the loaf tin and allow to go completely cold on a wire rack.

8. Once cold, make your ganache. Firstly roughly break the chocolate into a dish. Pour your cream and add the sugar to a saucepan and heat until not quite boiling.

9. Pour the cream and sugar mix onto the chocolate and stir until all the chocolate has melting and it becomes thick and glossy.

10. Allow to cool a bit, you don't want it so cold that it is more like the consistency of mousse, but cool enough that it doesn't run straight off the cake. I find leaving it for 20-30 mins works fine. The longer you leave it the thicker it will be. Spread over the top of the loaf, letting some slip down the sides. Let the ganache set for half an hour to an hour so your cream doesn't slide off the top, it won't be fully set, more like a thick melted chocolate that can hold it's shape.

11. Once the ganache is more set, pour 150ml of cream in a bowl and whisk until stiff. Place in a piping back and pipe some swirls on the top of the cake. Add a cherry to the top of each peak.

12. Grate about 10g of chocolate onto the top and you are ready to serve!
---
This recipe makes 10 slices
Nutritional info per slice
| Calories | Carbs | Fibre | Fat | Sugar | Protein |
| --- | --- | --- | --- | --- | --- |
| 435 | 43g | 5g | 27g | 18g | 3g |
© 2022 Coeliac Sanctuary - https://www.coeliacsanctuary.co.uk